"Are moodboards really essential to my design project's success? Or is Shawna just exaggerating?"
I'm not exaggerating. Not one bit. These days, moodboards have become highly undervalued, & it's easy to see why — they often get created just for fun and plastered across IG or Pinterest for looks and likes. 
Sure, I love good eye candy as much as the next person, but it has changed the public perception of a moodboard's role as a valuable design tool. Not on my watch!
As a designer, I can tell you that conceptual design moodboards are far from superficial. They are at the heart of making smart choices. We literally never design a home without them, and they ARE the reason we are successful. Convinced? Still on the fence? Let's talk about it…
What are conceptual design moodboards?
What are the advantages of creating a moodboard for your home project?
How can you get a moodboard for your renovation or furnishing project?
What are Conceptual Design Moodboards?
In the home industry, a design moodboard could be one of two things:
1. Collected samples of everything that will go into the new space, such as paint chips, wood flooring, backsplash tile, countertop stone, fabric for furniture and drapery, etc. 
2. Images of all product and material selections for the space, such as rugs, furniture, drapery, light fixtures, greenery, and more.
Assembling these items together, including representations of any existing elements in the space, creates a complete picture (or "mood") of the finished interior. This allows you to read the feel of the room before bringing it to life.
What are the Advantages of Creating Design Moodboards?
Okay, I already spoiled this one a bit above, but here's a comprehensive summary of everything these moodboards have to love:
You can see the whole look and feel of the room design in one glance
You can see which items go together and which stick out in a bad way
You can see if textures and patterns are playing nicely with each other
You can see what's missing (Too much texture? Not enough shine? Etc.)
Seeing everything together will inspire new ideas, memories, and creativity
It gives you complete confidence in your design before you invest in it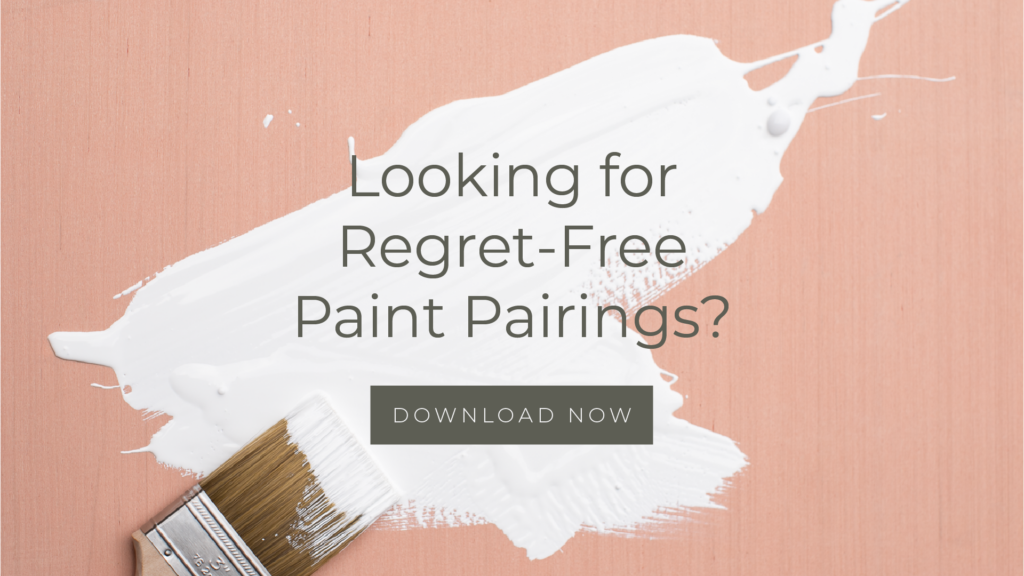 How to Get a Moodboard for Your Renovation or Furnishings Project
Okay, now you believe in moodboards, right? At this point, you have a few options: create your own project moodboard, hire us to custom-create one for you, or get a professional pre-curated moodboard. Let's look at each:
Option 1. Create Your DIY Design Moodboard
Get samples of all your potential options and lay them out on a white piece of poster paper.
Lay out the materials, fabrics, and even a printed out piece of art that coordinates everything.
Swap out colors, metals, and even a single bold paint chip to see how the mood changes.
Keep experimenting until you find the perfect combination!
Option 2. Get a Custom Moodboard from a Designer
I'm all for DIY'ing your moodboard if it really lights you up, but I also have to say, getting a designer's selections (for color, hard materials, fabrics, and furnishings) will save you a lot of time, overwhelm, and potential mistakes. So it's a personal choice. Here are some options if you're interested in working with us:
Option 3. Choose a Pre-Curated Moodboard
If Option 1 is too DIY and Option 2 feels like too high of an investment, there is a third, Goldilocks option that will give you designer-quality selections in a low-commitment way: pre-curated design kits.
While these are not tailored to your specific space, each kit comes with a moodboard that will give you an idea for the look and feel that our selected materials and items will achieve in your own home. This gives you confidence in the selections and the hands-on fun of bringing the design together yourself. 
Whatever avenue you choose, I hope you now see moodboards through new eyes. They are the magic behind spaces that feel complete, cohesive, and with all the soul-soothing vibes you're looking for. Until next time, I wish you good luck finding or creating the perfect design for you!
Xo,
Shawna
Styleberry Creative Interiors specializes in fresh, relaxed design crafted in a meaningful way. With a team, process, and done-for-you Design Kits you can trust, we'll help you create soul-soothing spaces that inspire you to unwind, connect, and finally… exhale. Our studio is based in downtown San Antonio, Texas and serves clients in the Alamo Heights, Olmos Park, and greater San Antonio Metropolitan areas, as well as Nationwide.